Mr. Tripathi has been in Pharmachem Industry for the last more than four decades including 25 years of his intial career in manufacturing in reputed Indian Pharma - Chem Companies. He is assisted by highly trained 5 nos of colleagues each having expertise in International marketing and 3 nos of other supporting staff.
Gayatri Chemi International was established in Sept. 2003 in Chennai , India and later shifted to Thane , Central Suburb of Mumbai known as the City of Lakes . It's a Propritory Company owned by Mr.D.P.Tripathi , Chemical Engineer & Post Graduation in Business Adminstration.
" GAYATRI CHEMI INTERNATIONAL" business interests comprise Sourcing and Indenting of Pharmaceuticals , Speciality Biotech/ Biogenerics , Insulin Analogs and latest generation highly specialized Biosimilars Oncologicals Finished Formulations , Active Pharmaceutical Ingredients , Speciality Chemical Intermediates , Nutraceuticals & Pure Herbal Products , Medical Hospitality & Healthcare Services and Biotech Multi Purpose Additives ( MPAs ) used in all types of Combustion Engines , in Crude Oil Exploration and in all Petroleum Products & Petrochemicals and also in Bio Fuels . Our product portfolio covers sourcing of Tablets, Capsules, Syrups , Ointments , Injections including in Prefilled Syringes , Soft Gelatin Caps , Eye Drops , IV Fluids, Medical Devices , Dentistry Consumables , Surgicals , Medical /HospitalDisposables, Cosmetics , Food Nutrients & Additives , Excipients and Biotech Multi Purpose Additives for Crude Oil Exploration , Petroleum & Petrochemicals , Biofuels and all Allied products with full support on Regulatory Documentation from reliable actual Manufacturers.
All formulations and APIs that we source for our several associated customers abroad are manufactured at WHO GMP facilities; Medical disposables too, come from CE and ISO certified units. Food Supplements from factories with Halal Certificate.
LEADING TO ANSWERS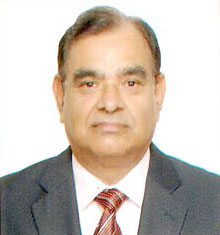 Gayatri Chemi International
Proprietor - D. P. Tripathi